Basics of Phonological & Phonemic Awareness
1. What Is Phonemic Awareness?
This ability to work with sounds (phonemes) in language — sometimes called pre-phonics, pre-reading, or early reading — is a foundational skill that makes learning to read easier.
Phonemic awareness is the ability to split up and rearrange individual sounds within words.
Phonological awareness is the ability to divide spoken language into units, such as words and syllables. Before diving into individual sounds within words (phonemic awareness), we teach children to pay attention to more obvious sounds. We start with environmental noises, then move into sentences, whole words, and then syllables. Only after a child can divide words into syllables do we start teaching the phonemic awareness part of our curriculum.
A child with good phonemic awareness, who is ready to start learning phonics, will have mastered the skills of blending, splitting, and substituting the sounds in words — phonemes.
1.1 Blending
Blending: taking a sequence of phonemes and blending the sounds together into a word
This skill feeds directly into phonics. Children who struggle with reading are most likely to have problems with blending. A child who can blend sounds is going to find learning to read much easier than a child who struggles with blending.
1.2 Splitting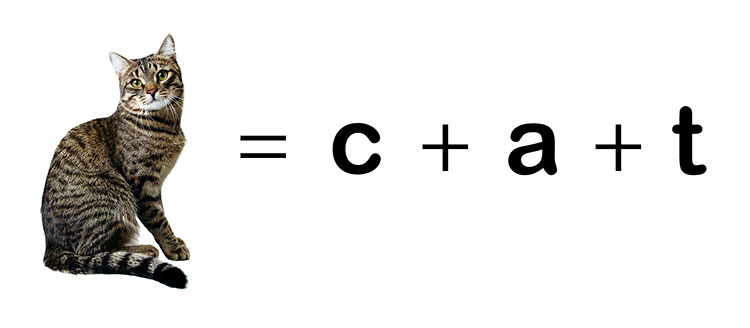 Splitting: breaking a word down into its individual phonemes
Reading and spelling are much easier if a child has this skill of being able to deconstruct and sound out unfamiliar words. Splitting is the most important and the most difficult skill that a child must master before learning to read successfully.
1.3 Substituting

Substituting: changing one phoneme within a word to make a different word
Substituting sounds within words is the final milestone of phonemic awareness. Being able to substitute sounds also makes learning to read with sight words more effective. If you memorize one phonetically irregular word, such as the Dolch sight word could, then you automatically know other words like would and should.
2. What Are Phonemes?
Phonemes are the individual sounds that make up words. Some letters have more than one phoneme (e.g., long and short vowel sounds). Some phonemes can be represented by more than one letter (for example, a /k/ sound can be written with the letter C or the letter K, or even CK). Sometimes a single phoneme is written with multiple letters (such as the /sh/ in ship). Here are some more examples of words divided into their phonemes:
pig has three phonemes: /p/, /iii/, and /g/
chop has three phonemes: /ch/, /ooo/, and /p/
frog has four phonemes: /f/, /rrr/, /ooo/, and /g/
kitten has five phonemes: /k/, /iii/, /t/, /eee/, and /nnn/
shopping has five phonemes: /sh/, /ooo/, /p/, /iii/, and /ng/
The English language has 44 phonemes but only 26 letters in its alphabet. This is what makes reading English hard, because there isn't a simple relationship between letters and sounds.
3. How to Get Started
Go to our Phonemic Awareness Curriculum page for an outline of all our games and activities and the order in which you should do them.
Be sure to access the Pacing, Assessment, and Fast Track page to help you decide where to focus and direct your teaching time.
Our Teaching Tips page includes guidelines for lesson planning and advice for tailoring the curriculum to the needs of your child.
4. How Long Does It Take?
With just a few minutes of instruction a day, a typical four-year-old will complete our entire curriculum in about one school year, or ten months.
This time will vary with the age and maturity of the children as well as the class size.
5. Research & Benefits
Phonemic awareness makes learning to read easier. Children with high phonemic awareness can already blend sounds into words, so phonics comes more naturally to them. When a child can divide words into sounds, spelling (breaking words into letters) is easy.
"Teach[ing] phonemic awareness…accelerates reading and writing growth of the entire classroom…"
Ingvar Lundberg, "Phonemic Awareness in Young Children"
A typical child starting elementary school with high phonemic awareness is almost certain to become a confident reader. A child with low phonemic awareness will almost definitely struggle with reading.
Here are a few examples of the research behind our Curriculum:
Adams, Marilyn Jager and Barbara R. Foorman, Ingvar Lundberg, and Terri Beeler. Phonemic Awareness in Young Children: A Classroom Curriculum. Baltimore: Paul H. Brookes Publishing Co., 1998.
Ball, Eileen W. and Benita A. Blachman. "Does Phoneme Awareness Training in Kindergarten Make a Difference in Early Word Recognition and Developmental Spelling?" Reading Research Quarterly 26:1 (1991): 49-66.
Barone, Diane M. and Marla H. Mallette, eds. Best Practices in Early Literacy Instruction. New York: Guilford Press, 2013.
Chambers, Bette and Alan C. K. Cheung and Robert E. Slavin. "Literacy and Language Outcomes of Comprehensive and Developmental-Constructivist Approaches to Early Childhood Education: A Systematic Review." Educational Research Review 18 (2016): 88-111.
Dickinson, David K. and Susan B. Neuman. "The Roots of Learning to Read and Write: Acquisition of Letters and Phonemic Awareness." Handbook of Early Literacy Research, Volume 2. New York: Guilford Press, 2006.
Edelen-Smith, P. J. "How Now Brown Cow: Phoneme Awareness Activities for Collaborative Classrooms." Intervention in School and Clinic 33:2 (1997): 103-111.
Ehri, Linnea C., et al. "Phonemic Awareness Instruction Helps Children Learn to Read: Evidence from the National Reading Panel's Meta-Analysis." Reading Research Quarterly 36:3 (2001): 250-287.
Hempenstall, Kerry. Edited by Jennifer Buckingham. "Read About It: Scientific Evidence for Effective Teaching of Reading." Research Report 11 (March 2016). Australia: The Centre for Independent Studies, 2016.
Lonigan, Christopher J., et al. "Development of Phonological Sensitivity in 2- to 5-Year-Old Children." Journal of Educational Psychology 92:2 (1998): 294-311.
Lonigan, Christopher J. and Timothy Shanahan. Early Childhood Literacy: The National Early Literacy Panel and Beyond. Baltimore: Paul H. Brookes Publishing Co., 2013.
National Institute for Literacy. Developing Early Literacy: Report of the National Early Literacy Panel. A Scientific Synthesis of Early Literacy Development and Implications for Intervention. Washington, D.C.: National Institute for Literacy, 2008.
Phillips, Beth M. and Christopher J. Lonigan, et al. "Successful Phonological Awareness Instruction with Preschool Children: Lessons from the Classroom." Topics in Early Childhood Special Education 28:1 (2008): 3-17.
Slavin, Robert E., et al. "Effective Beginning Reading Programs: A Best-Evidence Synthesis." Best Evidence Encyclopedia (June 2009). Center for Data-Driven Reform in Education (CDDRE), Johns Hopkins University School of Education.
Torgesen, J. K. "The Prevention of Reading Difficulties." Journal of School Psychology 40:1 (2002): 7-26.
Other Phonemic Awareness Resources: