Sight Words Dominoes
1. Overview
Sight Words Dominoes is simply the classic game of Dominoes, but with sight words on the dominoes instead of various numbers of dots. This game uses only 10 words per set of domino cards, so this is a great way to focus attention on a small set of words.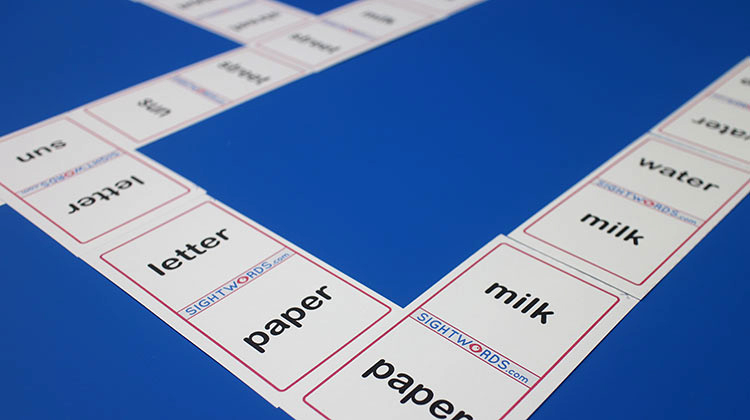 Sight Words Dominoes
2. Materials
The only requirement for this game is a set of Sight Words Domino cards.
Printer
Cardstock paper (approximately 110 lb / 200 gsm)
Scissors
Use the Domino Card Creator to create your own set of cards. Print onto cardstock paper and cut along the dotted lines.
3. Activity
The goal of Sight Words Dominoes is to build a string of domino cards by matching a word on your domino to one of the words on the domino path. This game can be played with two to four players.
Video: How to Play Sight Words Dominoes
Shuffle the domino cards and then deal them all out to the players. (It's okay if the players don't have exactly the same numbers of cards.) The first player selects one of their cards and puts it, face up, on the playing surface (a table or the floor). Because this is Sight Words Dominoes, this player must read aloud the two words on the card. If they don't know a word or can't say the word in less than 10 seconds, then we pause play for a few seconds to do a quick correction to help them learn the word.
Then the second player takes their turn. They scan their own cards for a word that matches a playable word on the already-played domino card. When they find one, they add it to the playing field, reading both words on their card aloud.
Because our focus is on reading and practicing sight words, we are not that concerned with "official" dominoes rules. If there is no play at the end of the domino path, it is totally okay to play a domino from the middle of the path, creating a new "branch."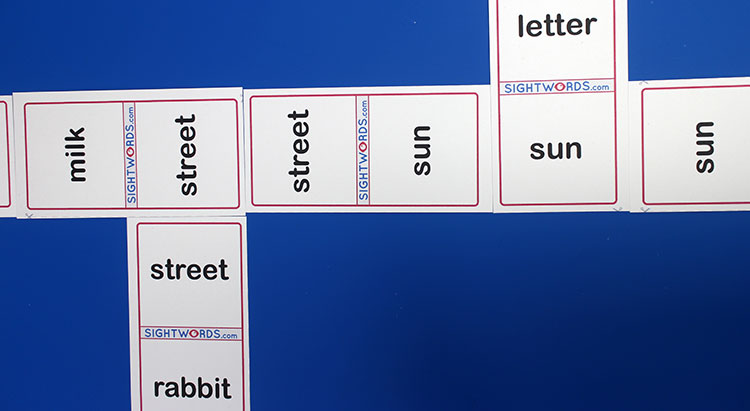 You can connect a domino card to a matching word in the middle of the path to start a new branch.
The game finishes when all the domino cards have been played. There is no particular winner in this version of the game. Just have fun and practice reading those sight words!
4. Printable Domino Cards
This game uses only 10 words per set of domino cards, so use this as an opportunity for your child to practice and get a lot of repetition with a small set of words (i.e., all the words beginning with "th").
Use the Sight Words Dominoes Card Creator to create your own custom set of cards. This app lets you select from both existing sight words lists (e.g., Dolch and Fry) as well as allowing you to add custom words (e.g., current vocabulary words, names, etc.).