Sight Words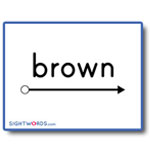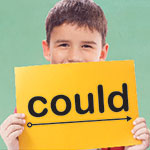 Flash Cards
Print your own sight words flash cards. Create a set of Dolch or Fry sight words flash cards, or use your own custom set of words.
1. Overview
Sight words instruction is an excellent supplement to phonics instruction. Phonics is a method for learning to read in general, while sight words instruction increases a child's familiarity with the high frequency words he will encounter most often.
The best way to learn sight words is through lots and lots of repetition, in the form of flashcard exercises and word-focused games.
2. What Are Sight Words?
Sight words are words that should be memorized to help a child learn to read and write. Learning sight words allows a child to recognize these words at a glance — on sight — without needing to break the words down into their individual letters and is the way strong readers recognize most words. Knowing common, or high frequency, words by sight makes reading easier and faster, because the reader does not need to stop to try and sound out each individual word, letter by letter.
Sight Words are memorized so that a child can recognize commonly used or phonetically irregular words at a glance, without needing to go letter-by-letter.
Other terms used to describe sight words include: service words, instant words (because you should recognize them instantly), snap words (because you should know them in a snap), and high frequency words. You will also hear them referred to as Dolch words or Fry words, the two most commonly used sight words lists.
Sight words are the glue that holds sentences together.
These pages contain resources to teach sight words, including: sight words flash cards, lessons, and games. If you are new to sight words, start with the teaching strategies to get a road map for teaching the material, showing you how to sequence the lessons and activities.
3. Types of Sight Words
Sight words fall into two categories:
Frequently Used Words — Words that occur commonly in the English language, such as it, can, and will. Memorizing these words makes reading much easier and smoother, because the child already recognizes most of the words and can concentrate their efforts on new words. For example, knowing just the Dolch Sight Words would enable you to read about 50% of a newspaper or 80% of a children's book.
Non-Phonetic Words — Words that cannot be decoded phonetically, such as buy, talk, or come. Memorizing these words with unnatural spellings and pronunciations teaches not only these words but also helps the reader recognize similar words, such as guy, walk, or some.
There are several lists of sight words that are in common use, such as Dolch, Fry, Top 150, and Core Curriculum. There is a great deal of overlap among the lists, but the Dolch sight word list is the most popular and widely used.
3.1 Dolch Sight Words
The Dolch Sight Words list is the most commonly used set of sight words. Educator Dr. Edward William Dolch developed the list in the 1930s-40s by studying the most frequently occurring words in children's books of that era. The list contains 220 "service words" plus 95 high-frequency nouns. The Dolch sight words comprise 80% of the words you would find in a typical children's book and 50% of the words found in writing for adults. Once a child knows the Dolch words, it makes reading much easier, because the child can then focus his or her attention on the remaining words.
3.2 Fry Sight Words
The Fry Sight Words list is a more modern list of words, and was extended to capture the most common 1,000 words. Dr. Edward Fry developed this expanded list in the 1950s (and updated it in 1980), based on the most common words to appear in reading materials used in Grades 3-9. Learning all 1,000 words in the Fry sight word list would equip a child to read about 90% of the words in a typical book, newspaper, or website.
3.3 Top 150 Written Words
The Top 150 Written Words is the newest of the word lists featured on our site, and is commonly used by people who are learning to read English as a non-native language. This list consists of the 150 words that occur most frequently in printed English, according to the Word Frequency Book. This list is recommended by Sally E. Shaywitz, M.D., Professor of Learning Development at Yale University's School of Medicine.
3.4 Other Sight Words Lists
There are many newer variations, such as the Common Core sight words, that tweak the Dolch and Fry sight words lists to find the combination of words that is the most beneficial for reading development. Many teachers take existing sight word lists and customize them, adding words from their own classroom lessons.
4. When to Start Teaching Sight Words
Before a child starts learning sight words, it is important that he/she be able to recognize and name all the lower-case letters of the alphabet. When prompted with a letter, the child should be able to name the letter quickly and confidently. Note that, different from learning phonics, the child does not need to know the letters' sounds.
Before starting sight words, a child needs to be able to recognize and name all the lower-case letters of the alphabet.
If a student's knowledge of letter names is still shaky, it is important to spend time practicing this skill before jumping into sight words. Having a solid foundation in the ability to instantly recognize and name the alphabet letters will make teaching sight words easier and more meaningful for the child.
Go to our Lessons for proven strategies on how to teach and practice sight words with your child.
5. Scaling & Scaffolding
Every child is unique and will learn sight words at a different rate. A teacher may have a wide range of skill levels in the same classroom. Many of our sight words games can be adjusted to suit different skill levels.
Many of our activity pages feature recommendations for adjusting the game to the needs of your particular child or classroom:
Confidence Builders suggest ways to simplify a sight words game for a struggling student.
Extensions offer tips for a child who loves playing a particular game but needs to be challenged more.
Variations suggest ways to change up the game a little, by tailoring it to a child's special interests or making it "portable."
Small Group Adaptations offer ideas for scaling up from an individual child to a small group (2-5 children), ensuring that every child is engaged and learning.
6. Research
Our sight words teaching techniques are based not only on classroom experience but also on the latest in child literacy research. Here is a bibliography of some of the research supporting our approach to sight words instruction:
Ceprano, M. A. "A review of selected research on methods of teaching sight words." The Reading Teacher 35:3 (1981): 314-322.
Ehri, Linnea C. "Grapheme–Phoneme Knowledge Is Essential for Learning to Read Words in English." Word Recognition in Beginning Literacy. Mahwah, NJ: L. Erlbaum Associates, 1998.
Enfield, Mary Lee, and Victoria Greene. Project Read. www.projectread.com. 1969.
Gillingham, Anna, and Bessie W. Stillman. The Gillingham Manual: Remedial Training for Students with Specific Disability in Reading, Spelling, and Penmanship, 8th edition. Cambridge, MA: Educators Publishing Service, 2014.
Nist, Lindsay, and Laurice M. Joseph. "Effectiveness and Efficiency of Flashcard Drill Instructional Methods on Urban First-Graders' Word Recognition, Acquisition, Maintenance, and Generalization." School Psychology Review 37:3 (Fall 2008): 294-308.
Shaywitz, Sally E. Overcoming Dyslexia: A New and Complete Science-Based Program for Reading Problems at Any Level. New York: Alfred A. Knopf, 2003.
Stoner, J.C. "Teaching at-risk students to read using specialized techniques in the regular classroom." Reading and Writing: An Interdisciplinary Journal 3 (1991).
Wilson, Barbara A. "The Wilson Reading Method." Learning Disabilities Journal 8:1 (February 1998): 12-13.
Wilson, Barbara A. Wilson Reading System. Millbury, MA: Wilson Language Training, 1988.