Literacy is just as important, if not more important, for children who are non-verbal as it is for typically developing children. We are happy to feature a guest post from Jane Odom, M. Ed., Director of Implementation Resources at AAC Language Lab. In this article, AAC users are those children who communicate with Alternative and Augmentative Communication such as communication boards and electronic devices.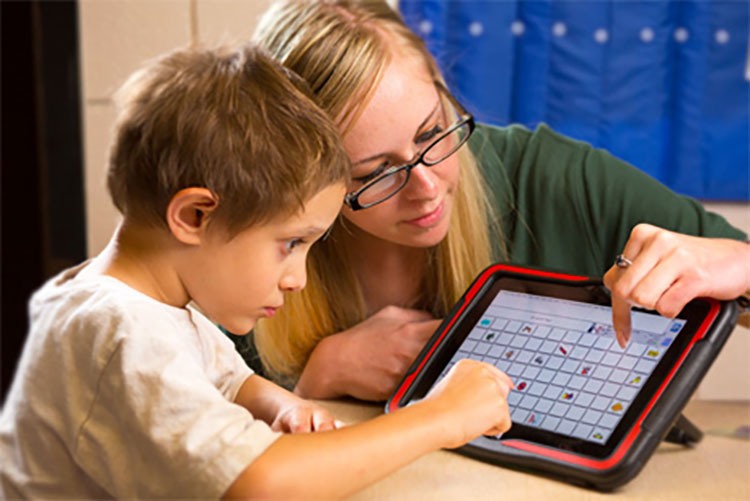 In graduate school at Temple University, I had the privilege to participate as a student in the ACES program (Augmentative Communication and Empowerment Seminar). ACES is a two-week seminar where AAC device users and professionals learn side by side. I then became the communications instructor for this program for 9 years. What I learned was invaluable. One common issue quickly surfaced when we asked our non-verbal participants what was lacking from their school experience. They overwhelmingly replied that no one had taught them to read.
For an augmentative communicator, the importance of literacy is almost indescribable. Reading is the foundation for all other learning. The fact that a student is unable to verbally speak should not hinder an educator from providing this essential component of their education.
Let's take a look at what needs to be in place for learning to occur.
Knowledgeable Communication Partner – It is important that as a teacher, you learn to use the student's communication device. Training is provided by most of the major manufacturers. The basics of where to find vocabulary and how the device functions are essential. You would not want to learn how to speak Spanish from someone who didn't speak Spanish, would you?
The student needs to have a way to communicate at all times. An AAC device should not be in a bookbag or on a shelf. The student needs to continually have access to the device at all times. If it is not available, there needs to be a back-up system in place, such as a low-tech communication board.
Many of our students may need special education services. For these students especially, repetition with variety is a tried and true method for teaching. They many learn best with multiple examples in a variety of situations.
Cognitive Engagement is essential. Students need to be interested in what they are learning. Often when I work with new students, I try and find out what makes them tick and we start there. If Johnny likes trains, the books and materials I choose will often focus on that topic. Johnny will immediately engage because it is something he loves.
Another essential is Cognitive Clarity. Students need to know why they are doing a specific activity and activity needs to be meaningful. They need to understand that the letter of the day is not just a random activity but a way to learn that each letter has meaning so they can eventually learn to read.
Finally, students need to have a personal connection to the curriculum. Content needs to be age-appropriate. Nothing is more demeaning for a student then to have to watch Sesame Street in a middle school classroom to learn about letters. Find ways that are meaningful for your students to introduce content. You can personalize materials for the student, allow them to help create the content, and even let them tell you what they already know.
Find a reading program that is appropriate for your students. Students who use an AAC device do not learn any differently than a verbal student. It is important to remember that limited or absent verbal communication is not indicative of their cognitive function. It is up to us as educators to provide students with disabilities with as many reading opportunities as we do our other students and hold true to the belief that all students can learn. Research has shown over and over that children with disabilities can learn to read with appropriate instruction. It is just that too often they are not given as many opportunities and accommodations for learning to take place.
The National Reading panel recommends instruction in five areas; phonemic awareness, phonics, fluency, vocabulary, and text comprehension. Providing these content areas for our students with disabilities is the foundation for becoming competent readers in the future.
So, where do we start? The Four Block model by Patricia Cunningham and Dorothy Hall, suggest working on these areas: working with words, guided reading, self-selected reading and writing. If we are working with students with significant disabilities, accommodations will be needed for them to be successful. Most of the activities that you already do when working with words and guided reading will work for all of your students. Be sure to create as many opportunities for the student who uses AAC to participate as for the other students. Keep in mind that it may take them a little longer to respond. You can always give them extra time to answer a question. Move on and come back to them when they are ready.
Self-selected reading may not be quite as easy. Students with physical disabilities may not be able to physically pick up the book of their choice or even turn the pages independently. This does not mean they should not be given the opportunity. We just need to get creative. Books are now available online, on an iPad, or other tablets and even can be downloaded onto their communication device. Many ideas can also be found online.
It is best to ask about these functions when attending training. The same challenges can also apply to writing. AAC devices today are often very high tech. Writing can be done on the device itself or the device can be plugged into a computer and serve as an alternative keyboard. Creating daily opportunities for our student to practice the writing process is essential. Activities can include writing an email, sending a text message, writing poems, reviews or even ads. It is imperative to learn the functions of the AAC device so you can best provide the easiest accommodations for your students.
Reading and writing are the foundation for all learning and the key to a child's successes in school and beyond. We, as teachers, must provide a variety of opportunities for every child to experience language and print in all its forms, and give them the tools to unlock the door.