MC9: Phone Dialing
1. Overview
"Phone Dialing" gives children additional numeral recognition practice. At the same time, it teaches children a very valuable life skill: how to use a phone.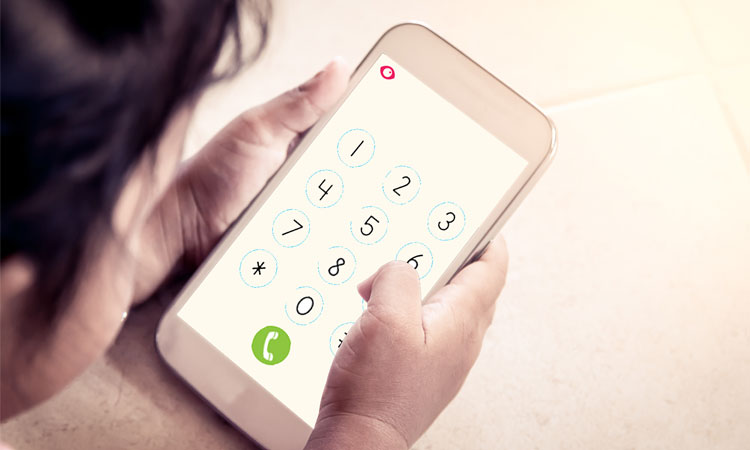 "Dial some numbers!"
↑ Top
2. Materials
Sticky notes
3. Directions
Video: Dial that phone number!
Print out the Sightwords Phone Dialing Template and place it in front of your child. Write a couple of important numbers (family, 911, close friends, etc.) on sticky notes and stick one on the screen of the phone. Instruct your child to type in the phone number while saying each individual number as she types it.
Adult: Type in the phone number! Say the number out loud as you type it!




Child:

4 [Types four]…0 [Types zero]…4 [Types four]…6…4…1…7…3…8…2

If your child types in the wrong number, stop her and try again.
Child:

[Types 3 instead of 4]


Adult: That's not four! Try again!




Child:

Four! [Types four correctly]

Play the game with several different numbers.
4. Extension
Once your child has mastered the basic game, do not use sticky notes. Call out the numbers and have your child type in the numbers.
Adult: 4…




Child:

[Types in four]


Adult: 0…




Child:

[Types in zero]

Adjust the speed in which you call out numbers depending on how well your child can keep up.
5. Download
To download, right-click and select Save As.
The Sight Words Phone Dialing Template is provided under the Creative Commons Attribution 3.0 Unported License. Basically, you are permitted complete license to use the resources, provided you leave the attribution hallmark (our logo) on the resources. We would be happy to see the materials used in the classroom, in the home, as part of your tutoring business, or however you see fit. You do not need to contact us for permission to use the materials. We want you to use them!