Christmas Bingo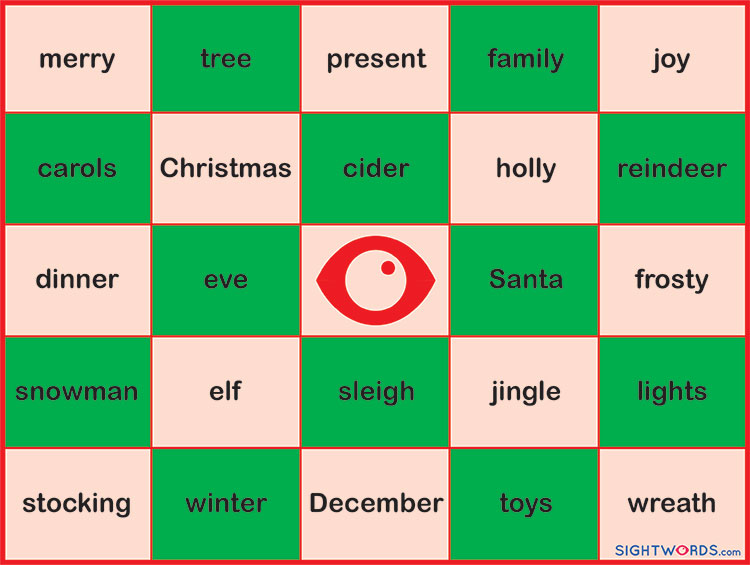 Sight Words Bingo is our most popular sight words game, so we decided to create a special Christmas version! It takes the traditional Bingo game and replaces the numbers with Christmas words, motivating your child to read the sight words so they can play (and win!) the game.
Each child gets his or her own Bingo Card with a set of words printed on a grid on the face of the card. The adult calls out words one at a time, and each time the child hears a word that is on their card, they cover the word with a marker. When the markers line up to make a complete row (horizontal, vertical, or diagonal), the child yells "Bingo!" and they are declared the winner of that round.
For more thorough instructions, see our main Sight Words Bingo page.
Printable Bingo Cards
Remember that if you are playing with multiple children, each child needs their own card that is different from everyone else's. Otherwise, everyone will get BINGO at the same time! Our Christmas Bingo Card Creator can create up to 30 individualized bingo cards, using a list of sacred or secular Christmas words.
Custom Sight Words Bingo Cards
Use the Sight Words Christmas Bingo Card Creator to create your own custom set of Bingo cards. This generator lets you select from both existing sight words lists (Sacred & Secular) as well as allowing you to add custom words (e.g. allowing you to add students' names, Hanukkah words, or words relevant to a unit you are currently doing). The creator will also create a teacher's word list to help you run the game.
Blank Bingo Template
Christmas Word List Templates
To download a template, right-click and select Save As.
These materials are provided under the Creative Commons Attribution 3.0 Unported License. Essentially, this means you can do whatever you want with the resources, provided you leave the attribution hallmark in place. Merry Christmas!