A5: Sound–Source Matching
1. Overview
Match animal sounds with animal pictures, learning and practicing the skill of hearing a specific sound and matching it with its source. This game will be pretty easy for most children. It is laying the foundation for later activities, which require deeper listening skills.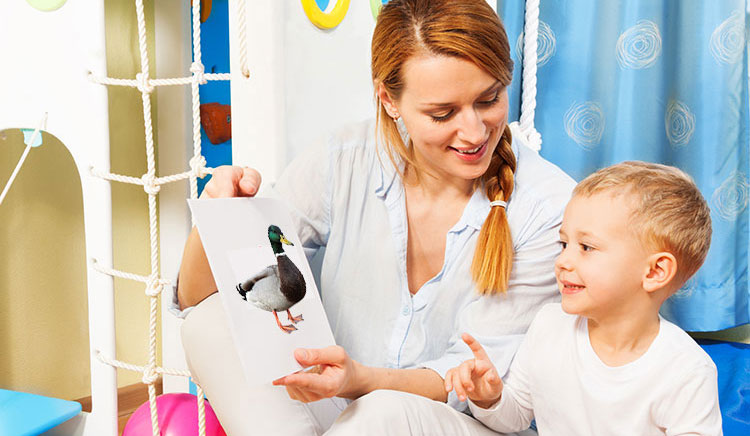 A5: Sound-Source Matching
↑ Top
2. Materials
A device on which to play sound clips
Sound clips of various animal noises
Print out the animal picture cards, preferably onto sturdy cardstock paper. Separate by cutting along the dotted lines. Use these sound clips of various animal noises: ↑ Top
3. Activity
Start by going through the sounds that different animals make. One good way to do this is by singing "Old MacDonald Had a Farm."

Video: How to play Sound-Source Matching

Spread the animal picture cards out on the floor in front of the child. Next, name each animal while pointing to its picture (e.g., to make sure your child isn't confusing "duck" and "bird"). Then prompt your child to connect the animal sound clips to the pictures:
Adult: Which animal makes this sound?

[play duck sound]

Child:

Duck!

Adult: Point to the picture of the duck.

[Child points to duck.]

Good. Now, which animal makes this sound?

[play cat sound]

Child:

A cat! There! [points to cat picture]

Adult: That's right. Can you make a sound like a cat?

Child:

Meow, meow.

Adult: Good job.
↑ Top
4. Confidence Builder
If the child has trouble finding the right picture, put out just three or four cards at a time.
If the child has trouble recognizing the recordings of actual animal sounds, simply "say" the noises yourself. For example, say "quack quack" instead of playing the sound clip of a real duck.
↑ Top
5. Extension
Repeat the activity, but reduce the time you play the sound. Encourage the child to find and show the card that matches the sound before the sound stops. For parents who want to encourage musical talent in their children, you might want to try this same activity using the sounds made by a variety of musical instruments. ↑ Top
6. Variation
Play the game with a storybook that features animals. While reading the book out loud to the children, substitute an animal's name with the sound it makes. The child with the corresponding picture card should hold it up. ↑ Top
7. Small Groups (2-5 children)
Lesson Objective: Children will be able to listen and match animal sounds to animal pictures. GELDS (Georgia Early Learning & Development Standards): CLL1.3a Adaptation: Read the main activity, watch the video, and follow the instructions above, with the following changes: Provide each child with an animal picture card. Go around the circle and ask each child what animal he has. Then ask, "Who says [oink, chirp, quack]?" The child with the matching picture card should hold it up and say, "A [pig] says [oink]!" Reinforcement: Talk to the animals! Have one child play Dr. Dolittle, who can talk to the animals. When Dr. Dolittle says, "Oink oink," the child with the pig card holds it up and hands it to Dr. Dolittle. The teacher can help Dr. Dolittle by suggesting animals for her to "talk" to. Use this Reinforcement at Home form to tell parents and guardians how they can reinforce lessons outside the classroom. ↑ Top